30 Minute Online Family Support Sessions
Does the virus have you worried?
Are your kids struggling with anxiety?
Are you struggling to manage how to be in the same space together?
Are your kids worried about the future?
Choose an online Telehealth appointment with a Licensed School Counselor (Private Pay) or Therapist (Most Ohio Insurances Accepted; Practice limited to State of Ohio)
Relieve children's fears
Create family strategies to survive the social isolation
Make plans on how to maximize your family time during social distancing
Call (419) 720-5800 to make appointment.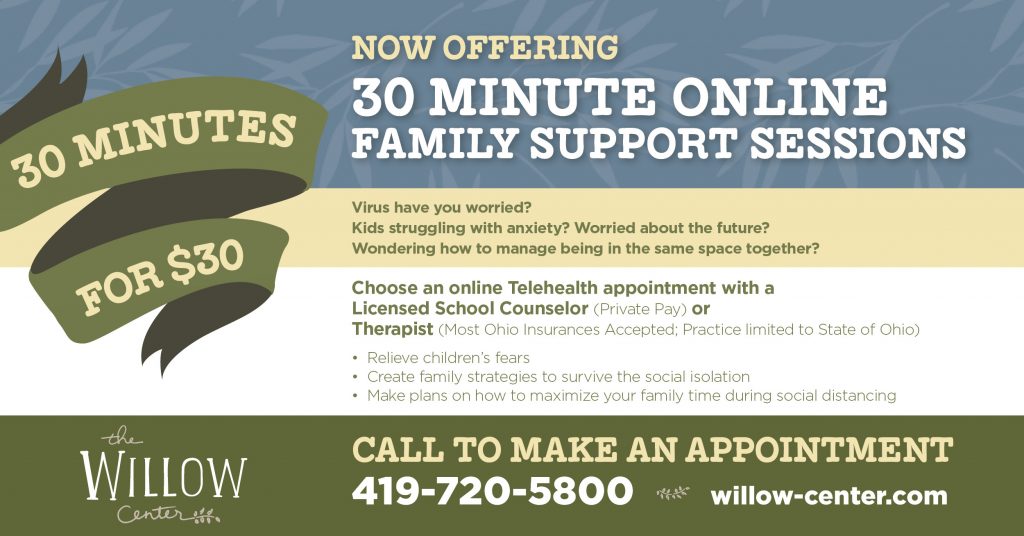 ---
Resources
Links will be posted soon.
Online Sessions
All that clients need to access the Telehealth service is a cellphone, tablet, or laptop/computer, and a wifi connection. If that is not an option we also can offer phone sessions.
If you are a client of TWC with an upcoming appointment and you want to switch over to our online option, all you need to do is email us at office@willowcenter.com or call the office at 419.720.5800 and we will change your appointment(s) over to our telehealth option.