30 Minute Online Family Support Sessions
Does the virus have you worried?
Are your kids struggling with anxiety?
Are you struggling to manage how to be in the same space together?
Are your kids worried about the future?
Choose an online Telehealth appointment with a Licensed School Counselor (Private Pay) or Therapist (Most Ohio Insurances Accepted; Practice limited to State of Ohio)
Relieve children's fears
Create family strategies to survive the social isolation
Make plans on how to maximize your family time during social distancing
Call (419) 720-5800 to make appointment.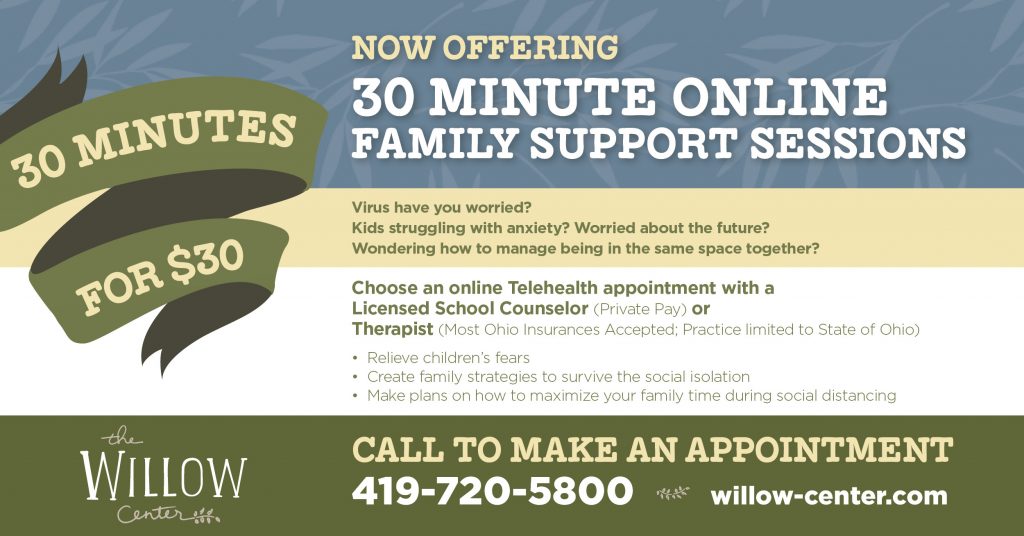 ---
Resources
If you are experiencing a mental health emergency, please contact 911 or go to your preferred emergency room.  Or you may contact one of the following:
Ohio CareLine: 
1-800-720-9616
Lucas County Crisis Centers:
Kobacker 419-383-3815; 419-383-5695
UTMC Campus

Age: 13-17 or 18 if still in high school
Zepf Center Crisis CARE 419-904-CARE (2273)
Care line is staffed by a trained mental health professional 24/7

If it is determined, based on the phone call, that a face-to-face screening is needed, a crisis screening will be arranged in the safest environment for the individual and the Crisis CARE Mobile Outreach Team.

Callers in need of Mental Health or Substance Abuse Disorder support will be offered an appointment with a provider within 48 hours of connecting with the Crisis CARE Helpline (previously known as the Recovery Helpline).
Promedica Toledo Hospital Children's Psych (419) 291-4000
Age: 6-18

If experiencing crisis, must go through ER for admission
ProMedica Flower Hospital 419-824-1444
Adult inpatient

Go through ER for assessment and admission
Mercy St. Charles Hospital 419-696-8800
Adult inpatient

Go Through ER for assessment and admission
Wood County Crisis
Wood County Crisis Line: 419-502-HOPE (4673)

Recovery Helpline: Call 211

Reentry Coalition: (567) 246-0761
Cocoon (Domestic and Sexual Violence): (419) 373-1730 Option #2
Children's Resource Center: 419.352.7588; (888) 466-5437
MOBILE RESPONSE STABILIZATION SERVICES

Inpatient-Wood County residents only
Online Sessions
All that clients need to access the Telehealth service is a cellphone, tablet, or laptop/computer, and a wifi connection. If that is not an option we also can offer phone sessions.
If you are a client of TWC with an upcoming appointment and you want to switch over to our online option, all you need to do is email us at appointments@willowcenter.com or call the office at 419.720.5800 and we will change your appointment(s) over to our telehealth option.